The Entry Level Master of Science in Nursing Program
Prepare for a lifelong nursing career with our accelerated master's degree program
If you're ready to take on the responsibilities—and the privileges—of caring for patients, our Entry Level Master of Science in Nursing (MSN) is right for you. Designed for students who hold a bachelor's degree in another discipline, the Entry Level MSN offers skills-driven, patient-focused nursing education in a small, supportive learning environment. Take a virtual tour of our state of the art nursing labs now.
The nursing program includes 77 credits of coursework covering health science theory, nursing leadership, research and hands-on clinical skills development.
Earning an MSN degree ensures you stand out in the job market—and equips you to pursue leadership roles and additional certifications as your career progresses.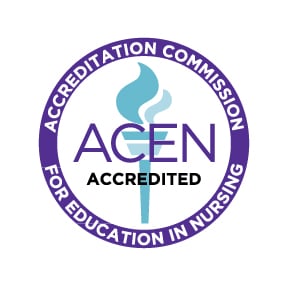 The ELMSN program at La Roche University is approved by the Accreditation Commission for Education in Nursing (ACEN).
How the Program Works
The Entry Level MSN is a blended program which leads to a Master of Science in Nursing without specialization.
Students will complete a component of their theory coursework through a flexible online learning environment. The main portion of your program is hosted at the La Roche University main campus in McCandless Township, 15 minutes north of Pittsburgh, Pennsylvania.
Here, you'll take hands-on laboratory courses led by our experienced faculty members and get to know your classmates. You'll also complete clinical rotations in the community through our local health partnerships with hospitals, clinics and other care sites.
The Entry Level MSN takes place over five accelerated semesters and can be completed in as few as 20 months of study. It is approved by the Pennsylvania State Board of Nursing and is approved by the Accreditation Commission for Education in Nursing (ACEN).
What You Will Learn
Our Entry Level MSN program prepares you for nursing practice and leadership. As a La Roche University graduate, you will:
Provide clinically competent care to patients of every age and from every background, including mental health patients.
Practice compassion and respect for the dignity of patients, their families and your colleagues.
Demonstrate the scholarly background necessary to conduct, evaluate and apply nursing research in the workplace.
Apply knowledge of health care and nursing management principles to make significant, positive contributions to health-care teams and community health initiatives.
Career Path and Continuing Education Options after Your MSN
After graduating from our Entry Level MSN, you'll have the skills and qualifications necessary to pursue bedside nursing roles in hospitals, clinics, rehabilitation centers, long-term care facilities, schools and many other care settings.
You'll also have the academic foundation necessary to pursue APRN specialty certification or doctoral-level study after graduation. At La Roche University, we offer you the opportunity to return after your MSN and complete certification coursework for the following specialties:
Clinical Nurse Leader
Nursing Administration
Nursing Education
Beginning your nursing career with your MSN means starting with a professional foundation that has more scope for specialization, upward mobility and satisfaction in your work.
Course Topics for the Entry Level MSN
Semester 1 – 15 credits
NURG5101
Professional Nursing Practice: Essentials
3 Credits
NURG5103 & NURG5103C
Professional Nursing Practice: Fundamentals (incl. Clinical)
5 Credits
NURG5105 & NURG5105L
Essentials of Pharmacology (incl. Lab)
4 Credits
NURG5107
Inquiry and Evidence in Professional Nursing Practice
3 Credits
Semester 2 – 15 credits
NURG5109 & NURG5109C
Professional Nursing Practice: Adult I (incl. Clinical)
6 Credits
NURG5111
Special Considerations of the Older Adult
3 Credits
NURG5113
Public Health and Epidemiology
3 Credits
NURG5115
Quality Improvement and Safety in Healthcare
3 Credits
Semester 3 – 16 credits
NURG5117 & NURG5117C
Professional Nursing Practice: Adult II (incl. Clinical)
5 Credits
NURG5119 & NURG5119C
Professional Nursing Practice: Mental Health (incl. Clinical)
5 Credits
NURG5121
Research Methods
3 Credits
NURG5017
Comprehensive Health Assessment
3 Credits
Semester 4 – 16 credits
NURG5123 & NURG5123C
Professional Nursing Practice: Adult III (incl. Clinical)
5 Credits
NURG5125 & NURG5125C
Professional Nursing Practice: Women and Children (incl. Clinical)
5 Credits
NURG5127
Health Promotion Across the Lifespan
3 Credits
NURG5009
Comprehensive Pathophysiology
3 Credits
Semester 5 – 15 credits
NURG5129 & NURG5129C
Professional Nursing Practice: Comprehensive Nursing Practicum (incl. Clinical)
3 Credits
NURG5131
Nursing Leadership
3 Credits
NURG5004
Theory and Professional Nursing Practice
3 Credits
NURG5007
Comprehensive Pharmacology
3 Credits
NURG5012
Health Policy and Global Consideration
3 Credits
Total 77 credits
Who Can Apply for the Entry Level MSN?
You must hold a bachelor's degree in another field to apply for this program—any undergraduate major is acceptable, so long as you meet our other requirements.
Contact us today to learn more about applying.